About Duarte
Duarte, "The City of Health" is the home of "City of Hope Medical Center". The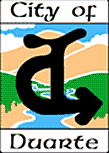 medical center is recognized world wide as a leader in fighting and researching cancer and other diseases.
Duarte offers easy access to the 605 and 210 freeways and is located approximately 25 miles North East of Los Angeles at the base of the San Gabriel Mountains.
Duarte offers homes in all price ranges and styles for the first time buyer to upper end custom homes.
Duarte has something for everyone.
Visit the Duarte City Website for more information.
Utilities
Gas: Southern California Gas Company (no branch office) (800) 427-2200
Electric: Southern California Edison (no branch office) (800) 655-4555
Phone: Verizon (800) 483-4000
Water: Cal American Water Company (800) 422-5269
Trash: Burtec Waste Management (800) 325-9417